Jumpstart II with Mycorrhizae 4-1-6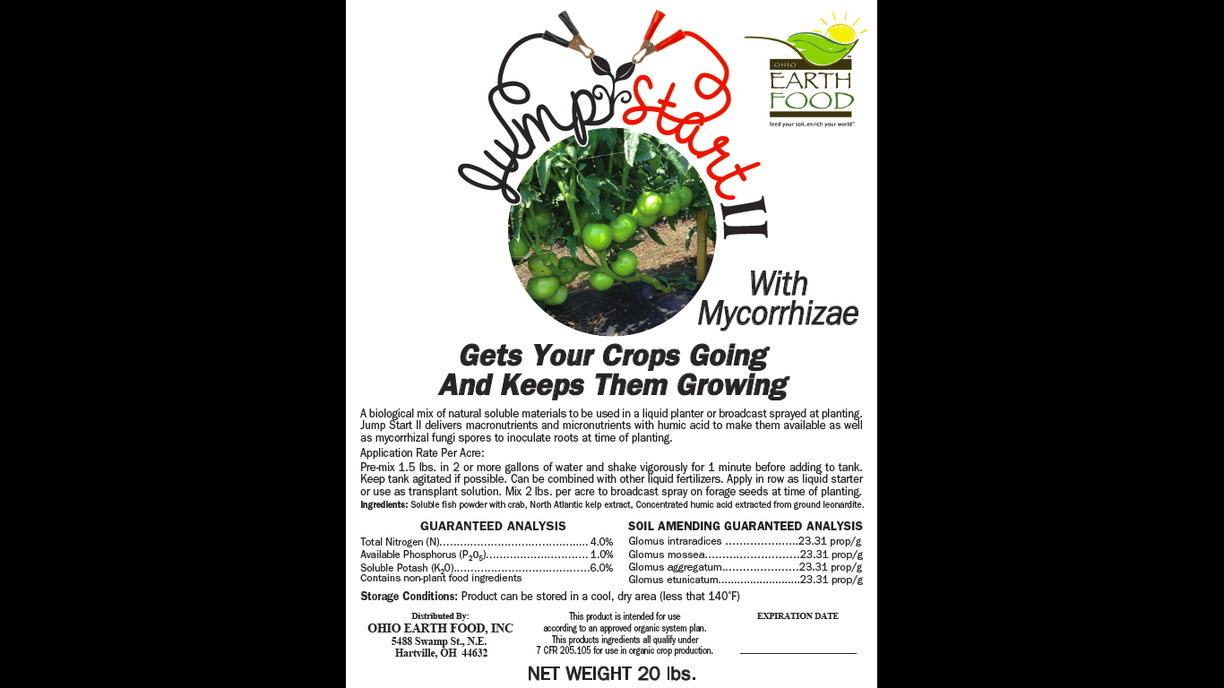 Jumpstart II 4-1-6 organic liquid fertilizer with Mycorrhizae. An extremely effective soluble starter fertilizer or transplant solution. We started with the successful Jumpstart fish-kelp-humate product and perfected it with the addition of the spores of the miraculous mycorrhizal fungi to inoculate roots at time of planting. Extensive independent testing showed us exactly what ra
More details
Less details
An extremely effective soluble starter fertilizer or transplant solution. We started with the successful Jumpstart product (fish, crab, kelp, humate) and perfected it with the addition of the spores of mycorrhizal fungi (endo) to inoculate roots at time of planting. Extensive independent testing showed us exactly what ratios work best on most common vegetable crops in most types of soil.  Delivers macro-nutrients and micro-nutrients with humic acid to make them available and assist in seed germination. Can be combined with other liquid fertilizers. Apply in row as liquid starter or use as transplant solution. Endo mycorrhizal fungi are the type most commonly hosted by fruit and vegetable plants, including hemp.
To see if your plants will host mycorrhizal fungi check the table at this link.
Application
In commercial planter or trasplanter use 2-3 lb. per acre pre-mixed with 5 gallons or more of water (2.5 gallon per lb.) and shake for 1 minute then dump into tank. Keep agitated. 
Use 2-3 lbs. per acre to broadcast spray on sewn forage seeds.
For application through drip irrigation use 1 oz. powder per 1000 sf of crop, pre mix with 6 oz. water or more per oz. of powder by shaking hard in enclosed container, then apply to injection tank.
This product is intended for use
according to an approved organic system plan.
This products ingredients all qualify under
7 CFR 205.105 for use in organic crop production.
Check with your certification agency before using for certified organic production.